Birth Certificate Apostille
Birth Certificate Apostille is also an important task if you are going to abroad to settle there.Birth certificate is the first document you get from the government. First your birth will be registered in hospital and later the birth certificate will be issued from municipal corporation.

Read this Article for Apostille for US Issued Birth Certificate.

In the old birth certificates, name of the person will not be there because traditionally people were used to name their baby after 1 month of birth. So for the older birth certificates, you need to get the birth certificate reissued.
Birth certificates without name will  also be processed but the name on the Apostille will be blank.
Birth certificate issued in india needs to get apostille to use it in Foreign country.
Apostille is only given by the Ministry of external affairs (MEA). Basically there are 2 kinds of Apostille. These are namely State attestation and SDM attestation. Choosing the right one, will save you time and money. A correct Apostille will prevent rejection from the embassy of the country you are travelling.
Difference Between Apostille and Attestation
Attestation is a broad term it can either be Notary Attestation, Apostille Attestation, Embassy Attestation. Depending on the purpose of the attestation you will be doing any of the attestation listed above.
Notary Attestation – If you are using any Indian document within India you need Notary Attestation.
Apostille Attestation – If you are using any India document outside India specifically in Hague Countries you must get Apostille Attestation from MEA.
Embassy Attestation – If you are using any Indian Document in Countries which are not part of Hague Nation then You must get Embassy Attestation
Go to Apostille Process Directly
It is a way to legalize your documents. If you are travelling or doing business in abroad the rule is that all the relevant documents needs to be processed through MEA for verification purpose, MEA will provide a sticker which is called apostille. The sticker is in a square shape and is usually placed on the back of the document. This sticker (Apostille ) will contain a tracking number for the country you are travelling through which authenticity of the documents can be verified.
Once the apostille on birth certificate documents is examined and stamped, there no further investigation done. As of now, it is considered that all the written details mentioned in the birth certificate are real and 100% accurate. Now, they are ready to use in any foreign country that is a part of the Hague nation.
It is always better to get all the relevant documents apostilled before leaving the country. So, choose the best birth certificate attestation services India that will complete the apostille of all the vital documents in less time.
A sample copy that presents the details that are written on a birth certificate attestation. 
Certificate No:

A unique number is attached

Certificate issued Date:

22/22/222 date and time are wriiten

Account Reference:

ALPHA CODE

Unique Doc. Reference:

ALPHANUMERIC

Purchased by:

NAME

Description of Document:

ARTICLE 4 AFFIDAVIT

Description:

AFFIDAVIT

Consideration Price (Rs.):

ZERO

First Party:

NAME OF PERSON

Second Party:

N/A

Stamp Duty Paid By:

NAME OF PERSON

Stamp Duty Amount(Rs.):

AMOUNT
Below are the situations where you need MEA attestation for birth certificate .
Travelling on work VISA 

Travelling on dependent Visa(wife or husband) 

For kids schooling in foreign country (Schools need birth certificate of your kids to get them admitted in school).

Student visa (Universities & consulate  need this to verify your age)

If the applicant wants to change his/her profession or wants to transfer the job.

An individual who has applied for a permanent resident visa.

A person who wants to alter visa status in a foreign country.
Below are the procedures for birth certificate attestation?
There are two ways of getting apostille to any certificate.
State authentication + MEA apostille 
SDM authentication + MEA apostille 
When to get state authentication and MEA Birth certificate apostille?
Every document in India belongs to one of the 29 states or union territory. You need to get state authentication first.
First check whether your destination country belongs to Hague nation list or not.
If it's not in the list or your travelling country is Austria or Italy you must get state attestation.
Or if your document belongs to Punjab, Haryana, and Goa then you have to get state attestation whether your destination country belongs to hague nation or not.
Getting state authentication is highly time consuming and complex process. Generally It takes 3-4 working weeks to complete.
When to get SDM authentication and MEA Apostille for Birth certificate?
If your travelling destination belongs to Hague nation then you can go for SDM Authentication.
But if your documents belong to Punjab, Haryana, and Goa then the cost of SDM Authentication increases.
Since there are 2 ways of doing an apostille choosing which kind of MEA attestation becomes important.
Choosing the kind of apostille depends on the destination country you are travelling.
If you are travelling destination is in Hague nation list then SDM attestation is good for you. It takes less time and money.
But there are exception countries such Austria and Italy even though they are in hague nation list, they require state attestation.
If the travel destination is not a hague nation, then you must get state attestation. MEA and Embassy attetstations are mandatory for countries which doesnt belong to hague nation.
Note: The applicant has to choose State Attestation if the country where the apostille on the birth certificate is to be presented has demanded birth certificate attestation from the State only.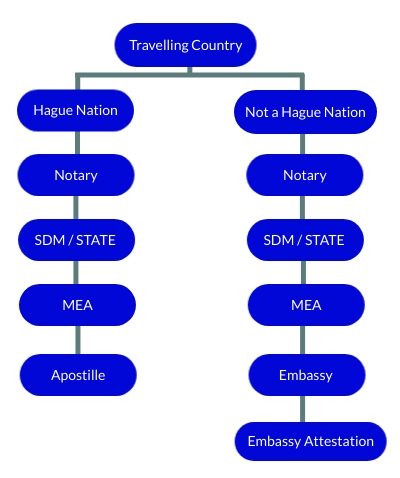 All the MEA Apostilles either through state or SDM Attestation has a validity of 6 months. If you have got apostille 6 months back then you should get a new apostille. However, there are some countries that accept apostille birth certificates India that are more than 6 months old. Additionally, there are countries that take a year-old apostille document also. So, an apostille service provider can check and tell you better about the validity of your apostille on birth certificate. 
How much processing time does it take to get the birth certificate apostille in India?
The optimum processing time that is usually taken for the embassy attestation and the birth certificate attestation is three to four days. However, in case of any uncertainty or if the area where the attestation is to be done is inaccessible then the procedure may take a longer time, and the time might also extend to 30 days.
What all documents are required to get apostille birth certificate?
Ministry of external affairs (MEA) only accepts original document to put apostille.
We need Your original or online verified document.
In addition to that we need Passport photocopy of the person  on whose name the document was issued. Only the front and back pages of the passport are needed.
A photocopy of an Aadhar card and a driving license. 
A few passport-size photographs are also required.
Are there any charges that a person has to pay for an apostille birth certificate India?
There are certain charges that an applicant has to pay but the charges for birth certificate attestation are different for every state. Several expenses at various authority levels are paid for attestation, the charges of the apostille service provider also change, and the charges also differ for standalone service or an end-to-end solution, the fees changes with the number and type of documents. It is better to ask a genuine apostille service provider to know about the exact cost that you have to pay for birth certificate apostille in India
How do we help you with apostille ?
From 2012, the number of documents submitted to MEA for apostille escalated rapidly. It was difficult for MEA to collect and distribute all the documents.
In 2012, MEA outsourced that job to us, It no longer accepts documents directly from citizen.
How do I apply for MEA Apostille Marriage certificate or any certificate?
You can register for apostille and get your doubts cleared. Since Apostille can be a little bit tricky it's always good to talk to the experts. 
Talk to us to get all the information regarding the process.
You can also read following articles for clearer picture.
Steps involved in Apostille
Sending the documents for office/visiting our office to deposit the document

Online payment for Apostille

Receiving the tracking number for the documents

Check updates online

Get emails regarding the apostille status

Receive/collect the documents after Apostille
An Apostille contains following details in it:
Name of country from which the document was issued.

Name of the Person to whom document is issued.

Name of person signing the document.

Designation of the singed person.

Place of certification date of certification.

Number of certificate.

Seal or stamp of authority issuing certificate.

Signature of authority issuing certificate.
Countries where apostille is required
Australia | Azerbaijan  | Austria  | Argentina | Belarus | Bulgaria  | Brazil | Costa Rica  | Canada  | Czech | Cyprus | Chile | Denmark | Estonia  | Ecuador | France  | Finland |  Georgia | Germany | Greece | Hungary | Latvia | Lithuania |  Luxembourg  | Italy | India | Iceland | Ireland | Japan | Jordan | Kazakhstan | Korea | Moldova | Morocco | Malta | Mexico | Mauritius | Netherlands | New Zealand | Norway | Peru | Paraguay | Portugal | Panama | Philippines | Poland | Paraguay | Russia | Sweden | Singapore | South Africa | Switzerland | Ukraine | Spain | Ukraine | USA|  UK| Vietnam
Register for Online Apostille
Provide applicant details
Frequently asked questions